Get Your FREE Estimate For LeafFilter™
LeafFilter's Installation Process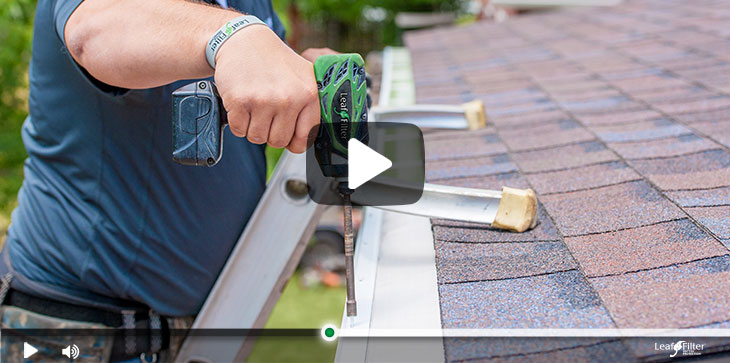 It's our mission to ensure that every one of our customers is completely satisfied. After installation, you will receive our Homeowner Inspection Certificate that ensures a satisfactory installation.With a no-clog 100% money back guarantee*, you can enjoy the peace of mind that you are protecting your gutter system and home for a lifetime.
Watch the video to learn more about our installation process.
*See representative for details.
LeafFilter is installed in just three easy steps
LeafFilter's team of professionals has the knowledge and expertise to guarantee clog-free gutters for the life of your home. During the installation process, our team will clean and realign your gutters, and your gutter downspouts all the way to the ground, before installing our revolutionary gutter covers onto your existing gutters.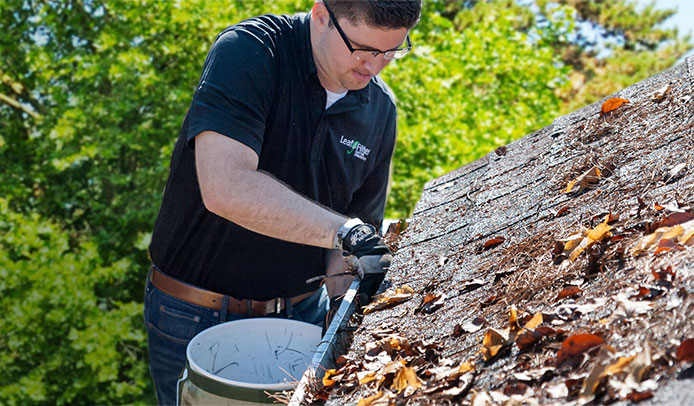 CLEAN & REALIGN YOUR GUTTERS
Prior to installing LeafFilter™, our team will clean, realign, & repair your existing gutters and downspouts.
It is highly likely that LeafFilter™ can be installed onto your existing gutters. However, in some extreme instances, a homeowner's gutters are in need of extensive repair, which makes replacement essential.
If necessary, our installation team can install new gutters during the installation of LeafFilter™.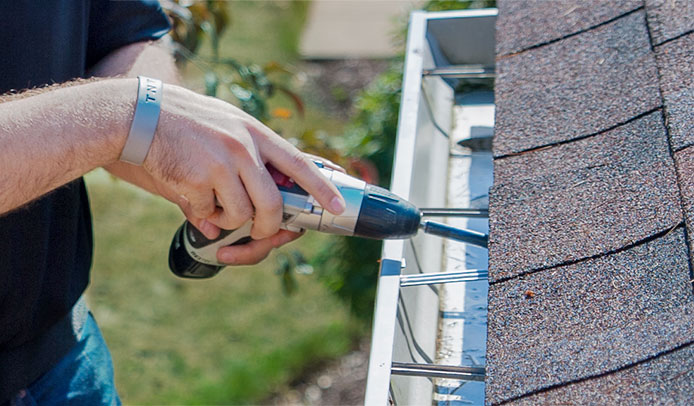 SEAL, REINFORCE, & PREP GUTTERS FOR LEAFFILTER
Once your gutters and downspouts are clear of debris, our team will begin prepping your gutter system for LeafFilter™.
Your gutters are then reinforced with internal aluminum hangers using 1½ inch wood screws drilled directly through the fascia board. This adds strength to your gutters and support for our system. Then, we seal the inside of your gutter seams to prevent any potential water leakage from your existing rain gutters.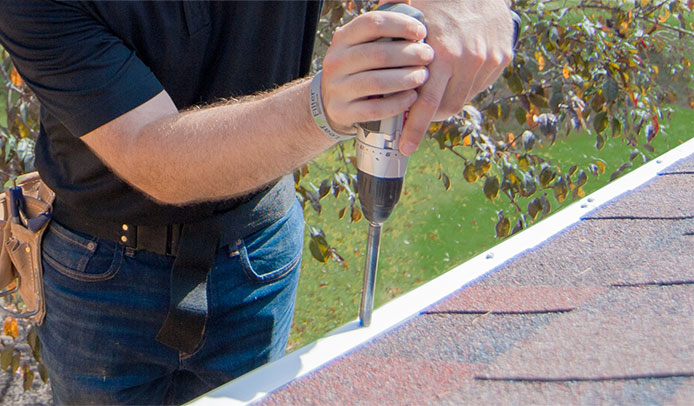 INSTALL LEAFFILTER™
Our installers will secure LeafFilter™ to your gutter system with self-tapping zip screws in five-foot sections. Once LeafFilter™ is installed, your gutter system will be completely sealed from debris, eliminating gutter cleaning from your to-do list forever.
Why choose LeafFilter™ Gutter Protection
Rated #1 By Consumers and Consumer Reporting Agencies

390,000 Customers Served With NO CLOGGED GUTTERS

Lifetime, Transferable Warranty

No Holes, Gaps or Openings
Installs on Your Existing Gutters

Doesn't Void Your Roof Warranty

FREE Gutter Cleaning and Realignment

Our Clog-Free Guarantee
How much would LeafFilterTM cost for your home?
It takes less than a minute.